Have you tried learning with a book and found it overwhelming? It looks too complicated and has too much information, way more than you need.
Have you tried learning on the internet and found it devastating? A tip here, one there, no order all contributing to getting you lost?
Can you set aside 5 minutes every day to complete one single assignment?
Here is a series of 21 2D AutoCAD videos in which you will learn AutoCAD by doing. At the end of the course, you will be handed a Bonus: an eBook of more than 111 AutoCAD exercises to play with and gauge yourself on what you have learned.
No matter the industry you find yourself in, there is common ground every learner should start with and this is going to cover just that.
Not like many tutorials and courses out there you actually are provided with means to help you assess yourself once you are done with the learning.
The eBook has enough challenges to help you hunt down all the misunderstanding and give you the opportunity to correct them.
Payment
This is a one-time payment and a lifetime-access course. You pay once, and you have unlimited access to this course for as long as you like - across any and all devices you own.
How is it going to be structured?
Each session comes with a practice exercise. You are being thought all you need to know to complete the exercise and there is a video tutorial to guide you step by step of the action to take to complete the exercise.
What if I am not an absolute beginner?
These exercises will also be a nice way to check your skill plus we have an eBook that comes as a bonus to the course with more than 121 CAD exercises (3D exercises included) that will be a nice playground for our students.
Can I get extra help apart from the videos?
We will be at your disposal for any question related to the learning material as need arises.
What if I don't have AutoCAD?
You are entitled to a 3 years free license of AutoCAD. (If needed, the link to download AutoCAD is given to you in the first video-tutorial)
Can I learn all in one day?
This question depends on your availability and your capacity to digest the video tutorials. It is possible to take all in a day but we highly encourage you not to use the content as a sprint but rather as a marathon.
What do exercises look like?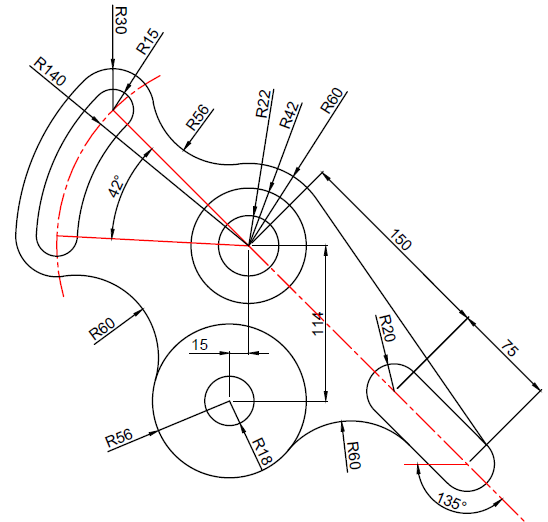 Exercises covered in the video sessions are all 2D exercises, coming by order of difficulty; all have been taken care of to add a little bit of challenge as you climb the ladder with the aim to have you use all necessary tools you need by the end of the course.
Reading books is a great way to learn about new topics, but sometimes, reading 15 books on a topic isn't physically possible. Especially when you have a problem that you'd like to solve right now.
Plus, when you read a book, it's up to you to "figure out" how to apply it to your life. And sometimes the "figuring it out" part can be the hardest part of all.
Education is meaningless without implementation. And this course shows people how to actually do the work.
Plus, have you ever learned something and had a question that you needed an answer to? Your questions will be answered as your post them.
BONUS (eBook)